PRIVILEGED ACCESS MANAGEMENT SOFTWARE
Secret Server
Protect your privileged accounts with our enterprise-grade Privileged Access Management (PAM) solution.
Available both on-premise or on the cloud-native Delinea Platform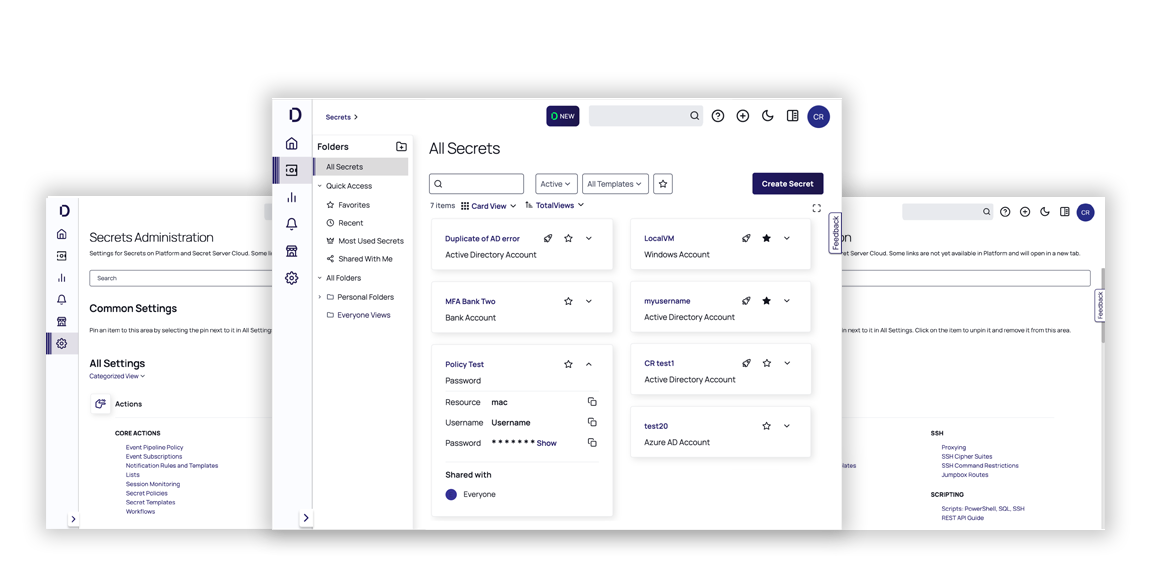 Enterprise-scale Privileged Access Management at lightning speed
Get up and running fast with solutions for privileged account discovery, turnkey installation and out-of-the-box auditing and reporting tools.
Scale for growth
Manage multiple databases, software applications, hypervisors, network devices, and security tools, even in large-scale, distributed environments.
Create endless customizations with direct control to on-premise and cloud PAM. Work with professional services or use your own experts.
Secure privileges for service, application, root, and administrator accounts across your enterprise
PAM tools are more effective if they're easy to use. And Secret Server is easy to use. See exactly how easy it is.
Establish secure vault
Store privileged credentials in an encrypted, centralized vault.
Discover privileges
Identify all service, application, administrator, and root accounts to curb sprawl and gain a full view of your privileged access.
Manage secrets
Provision and deprovision, ensure password complexity and rotate credentials.
Delegate access
Set up RBAC, workflow for access requests, and approvals for third parties.
Control sessions
Implement session launching, proxies, monitoring, and recording.
We're creating a global community where users feel both free and secure
From implementation, to scaling, to thinking ahead for future needs, count on Delinea for a PAM partnership built on insight and integrity.
That's why we're trusted by thousands of organizations worldwide.
Receive your 30-day Free Trial
Sertalink needs the contact information you provide to us to contact you about our products and services. This way we can help you as best as possible.
Whether in the cloud or on-premise, Delinea's solutions are readily customizable, scalable for growth, and powerful enough to secure your organization no matter its PAM maturity.
With Delinea, privileged acces is more accessible.
Interested in Learning More?